HIIT Bootcamp Small Team Training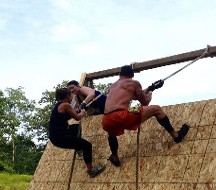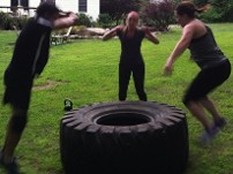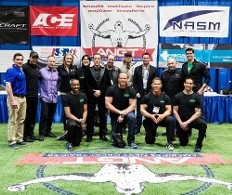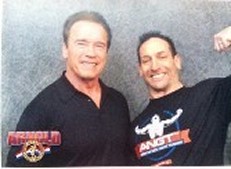 "Working with Kettlebells with Master Trainer Anthony Magnelli has been the best choice I've made to get into shape!I've lost 14 pounds (so far!), increased my strength and flexibility, and have seen incredible improvements in my cardio fitness that I never thought I could accomplish. In just 2 months I lowered my cholesterol from 327 to 192. Anthony creates challenging and varied workouts that push you to your limits and beyond, all the while focusing on teaching the correct Kettlebell techniques. With Anthony, I'm confident anyone can learn the Kettlebell and accomplish their health and fitness goals, not only because of his expertise, but because he truly wants you to succeed and will do everything in his power to help you to do so!"
"Your kettlebell training helped me crush the team that trained every Saturday with a special trainer that ASPCA set them up with. None of them finished within 5 minutes of me."
"I was a fifty-eight year old, overweight, out of shape lady with no motivation, no energy, high blood pressure, and did not like the way I looked or felt. I even thought of transferring from teaching kindergarten to an upper grade to avoid the movement and activity teaching the kindergartners demanded. I am now down two dress sizes, lost thirty pounds, my blood pressure is normal, blood sugar is normal, and I look and feel better than I have felt in a long time and I plan to keep teaching kindergarten until I retire."
"My weight was 203lbs, blood pressure 168/110, 210 cholesterol, and 70% breathing lung capacity. I am now 166lbs, my blood pressure is 110/80, cholesterol 189, and 97% breathing lung capacity. I now run up the stairs and on the treadmill (which I have never done). Anthony will bring out your inner athlete and change your life!Cholesterol is now 167."

On the day we started training three years ago my blood pressure was 168/110.... basically I had high blood pressure (ugh!) and when combined with 203 lbs, not a healthy place to be. I had to start taking a blood pressure pill to contain the levels which was also climbing on each Dr. visit. At first, I tried to just eat healthy and take the pills but that was not moving the needle. Then I met you, and we designed a plan that meant training consistently (no matter what) at least 3x a week. Within 6 months, the BP numbers started to drop significantly until I got to 110/80, albeit still on pill (but a tiny dose).

The awesome news is that as of last week, I am totally pill free!!! I have been maintaining my blood pressure between 118/80 to 120/80. The Doctor tells me that its unusual for this to happen. I disagree. I believe that a healthy lifestyle which combines consistent exercise and clean eating (most of the time!) will help your body to do what its meant to do naturally.

Thank you for every Kettlebell Swing or Plank or Lunge! I know for
sure that its led to this awesome place of well-being.
"Away from the office, Golf is my passion. I been training with Mags for one year.

In 30 years of playing, I have never hit the ball further than I do today."
"I have studied health and wellness for half my life. As an ACE certified trainer with an extended certification from Kettlebell Concepts I know what makes a great trainer. Mags has thoroughly impressed me with his advanced knowledge of both past and current exercise sciences. I respect anyone that mix "old school" methodology with current "new-wave" theories in exercise and nutrition. Anthony Magnelli is as highly qualified as anyone I know. He has proven his flexibility to a diverse amount of people and interests. With names such as Pavel Tsatsouline, Ori Hofmekler, Dr Ray Strand, and etc in his library of knowledge, Mags has separated himself from the general population of"wanna be" health professionals. I am proud to call Anthony a friend and an equal inside and outside the training realm."
A short summary of the towns Lenore and I stayed in and bicycled from and to in Puglia Italy from June 4th to 18th are as follows:
June 4-6Hotel Sassi - Matera, Italy June 7-8Hotel Pineta - Ruvo di Puglia, Italy June 9-11Hotel Sovrano Alberobello - Alberobello, Italy
June 12-14 Patria Palace Hotel - Lecce, Italy June 15-16Hotel Covo dei Saraceni - Polignano a Mare, Italy June 17HIlton Rome Airport Hotel - Rome Italy We had a wonderful time bicycling to and from the Adriatic Sea, The Iononic Sea, etc. and taking in all the sights along the way.
Lenore did wonderfully and it wouldn't have been possible without the wonderful training you provided us with the Kettle Bell workout. We can't thank you enough.

"You are an excellent coach . . . with total focus on your students . . . It is a pleasure to work with someone with your knowledge, focus and skills."
I'm writing to express my sincere appreciation to Anthony for over the years correcting two of my "Medical" situations. I started training with Anthony about 5 years ago simply to better my health and musculature, but what happened over time proved to provide me with so much more. Anthony's specific training program literally corrected my Kyphotic spine from childhood and 2 Bulging disks that I had incurred about 4 years ago in a fall.

Hard to believe I know, but since a child I had developed a curved spine, rounded back, or medically known as Kyphosis. I had been to many spinal doctors as a child, wore a brace, and chiropractors over the years but nothing improved my spine like the 5 years with Anthony. I was not even the one to recognize the changes in my posture, but instead my own father and the people I work with pointed it out to me. Exercise and the specific way Anthony trains me has remarkably provided the biggest correction to my spine, which as I now know was not a spinal issue at all, but a muscular one.

I recently had another serious fall, which has left me with a herniated disk and 3 bulging disks instead of the two I originally had. You would think my fear would be, how can I work out in this condition, but instead my fear was I hope Anthony takes me in my condition. After 6 long weeks in recovery I got back into weekly sessions with Anthony. His expertise amazes me. I could see him processing changes he needed to make in my training to ensure I didn't hurt myself and only improved. Amazing me again, I am back to normal in only a month's time. Feel no pain. Even after shoveling SAND from my shore house, recently deposited from Hurricane Sandy, I was positive I would be paying for it the next day…Nope in fact I was training with Anthony instead…Another GREAT workout !

With every grateful ounce of soul, I sincerely thank you Anthony.
For the past few months I have been taking physical fitness assessments in the hopes of being offered the dream job I have always wanted. On a few of these assessments I have run into one problem; Flexibility!! I was always able to touch my toes standing up but when it came to the sit and reach I couldn't even get to my toes. Unfortunately, this cost me a chance at reaching my ultimate goal during the last process I participated in.

Last week I approached Anthony at the gym and asked him for a few pointers on how to increase my flexibility. To my surprise not only did Anthony give me some good advice but he took 45 minutes out of his own time to show me proper stretching technique and different ways to help me increase my flexibility. That night in the gym while working with Anthony I was able to touch my toes. Anthony continues to check in on my progress every time I see him in the gym.

Without Anthony's help I would have to continued to struggle with this issue, test after test. Now because of Anthony's generosity and help I know that I will be successful next time I take a physical fitness test. Thanks Anthony for all your help!
I want to thank you a million for all the exhausting but very motivating training sessions. From our very first session until the last one, I feel so much better about myself (physically & mentally) and stronger too. Your training sessions were amazing! You probably noticed that in the beginning, I was not so comfortable using kettle bells during our training sessions but now, I finally feel comfortable using them and most importantly, I know how to use them (but recognize I still have room for improvement).
As you know, I was preparing for my first Spartan Race and because of you and all the great exercises you instilled in me, I was able to complete the race with little difficulty.
Thank you for giving me better knowledge and understanding of what a workout routine should consists of. Teaching me different techniques & exercises really helped me strive towards strengthening my body & mind as well as to push myself to workout even harder. What a great challenge!
Thanks Anthony :0)
You're the best!
Today my strength coach (at Duke University) asked me if I had any experience with weight lifting and I told him about you. He told me that I needed to tell you what a good job you did because my form is perfect. You are the best! Definately prepared me and I'm way ahead of the other freshman.
For all of those who work with Anthony, or plan to.... He's Amazing!!! I am a female in her late 40's who loves to get a great overall workout in several nights a week. For a few years now, I've had severe pain in my right hip & lower back. It would come & go. The pain would be so excruciating that it would freeze me from doing lower body exercises while at the gym. Walking lunges, leg presses, elliptical and many other lower body exercises became a distant memory. Months of PT & co-pays made no extreme difference for me. I was frustrated at this point & decided to 'work through the pain', and live with it. While at the gym with a friend one night, it happened. Barely walk, hip was out of whack. I was in pain! My 'gym buddy' took me to Anthony who is a PT working on the floor at the gym. He spent approx 15 minutes of HIS TIME working my hip & lower back. Felt pretty good, pain was gone. I later had a 1 on 1 session totally dedicated to stretching & working my problem areas, oh the pain I felt that night! Well every ache and ouch was well worth it! Months later, I am still able to do those lower body exercises, lunges, leg presses without saying a prayer asking to please make sure I get up! To this day, I feel amazing!! He took the time and 'taught' me what to do to keep the flexibility in my hip. I still do these exercises on a daily basis. So Anthony, I can't thank you enough! You truly have made a world of difference in my life. I no longer wake in the morning wondering how many aleve's I'll need to get through the day, can I do the stairs without holding on, will I be able to get a full body workout in that night. I no longer fear what could happen during my workouts, but fear what would happen if I couldn't workout. It's so obvious how much you care about those around you, whether they're a client of yours or not. Your knowledge, inspiration & thoughtfulness did not go unnoticed & will not be forgotten. Thank You, thank you, thank you!!!! - see you at the gym!! YAYYY !
In 2008, I decided to get serious about my overall physical fitness. Although I regularly exercised, (mostly running and some weight training), my eating and drinking habits were not aligned with my goal for better core body strength and fitness. Fast approaching 50 years of age, I was 148 pounds with a high degree of stress in my life, juggling family and work.

I feel God placed Anthony on my path to better Health. Before meeting Anthony, I didn't know what a kettle bell was or how to do a burpee . He designed my PT sessions to insure greater physical performance and reduce the likelihood of injury in the activities and sports that I enjoy. Anthony truly personalized personal training for me with great results.

Affectionately known to my family as the "doctor of reflexology", Anthony has coached me through a calf injury, siatica, and many other aches and pains with great relief.


About a year ago, during a routine physical I was told that I was diabetic. I shared this Anthony who suggested seeing a nutritionist. I decided that along with strength and mobility training, and running, I would work with a nutritionist to examine what and how much I was eating and drinking. With some adjustments to my diet, I lost 10 pounds in 7 months, but my sugar levels were still elevated.

My doctor recommended I start diabetic medication and have an ultrasound of my thyroid. I chose not to take the medication but had the ultrasound. The ultrasound identified a 1.2cm mass on my thyroid which was cancerous. The thyroid was removed without complications and I was able to resume my regular training 5 weeks later.

I strongly believe my quick recovery was attributed to my training and conditioning with Anthony. Now 3 1/2 months after my surgery, I am 25 pounds lighter, getting stronger. eating cleaner, drinking less, back to doing Turkish get ups, running 5k races all with a positive prognosis for a full and healthy life.
I have suffered from back pain most of my adult life. For the most part, the pain would come and go but it did not significantly affect my quality of life until this summer. I have actively trained, lifting weights, running and swimming for health and fitness, since I was a teenager, competing in triathalons and competing in local 5k races. This past summer, after competing in two triathalons within a few weeks of each other, I experienced excruciating and debilitating back pain. I was unable to walk, stand or sit without experiencing tremendous shooting pain from my lower back down my leg. Relief was only found lying down. I was unable to walk up and down stairs or drive to work.

I was in so much pain that I consulted an Orthopedist who prescribed physical therapy and pain medication. In the span of 60 days I consulting a second orthopedist, who also prescribe PT and pain medication and worked with the Physical Therapist, focusing on the piriformis.

My wife had encouraged me to see Anthony, as she has trained with him for the past 8 years. In total frustration, I reached out to Anthony.

Anthony assessed my physical range and abilities and immediately isolated the Psoas as the problem. The Orthopedist and Physical Therapists never mentioned the Psoas as a potential source of the back pain so the treatment program they designed was focused on the piriformis not the psoas.

After working with Anthony for 3 sessions, the pain was gone. I have resumed weight training, swimming and running and hope to start training for the upcoming triathlon season this week.

Anthony is passionate about fitness, strength and mobility training and it shows through the energy and enthusiasm he brings to every session. He places a high value on correct form with each exercise. Im training weekly with Anthony and grateful for his knowledge and coaching and for getting me thru this painful time in my athletic life.
Got my blood work back today. My Rheumatoid Arthritis is in remission!! Every inflammatory marker has now returned to low normal range. They have cut my thyroid meds in half. I haven't gotten normal blood work in 15 years! How did this happen? I did three things; all were very difficult but you see I am being healed. Thank you God.
(1) I went no contact with every person who was unkind to me and used me as a whipping girl for their problems. Didn't matter who they were. There is no more emotional abuse in my life. You don't realize what freedom feels like until you remove those who don't have your best interest at heart. Still hurts, but this feeling of self love is worth the price!!!
(2) no meat, poultry, cut down on sugar dramatically... water, beans, vegetables, all anti inflammatory foods
(3) and I began training with Anthony Magnelli at Magsfit in Suffern. I have no more pain. They wanted to do a fusion on my neck, for Pete's sake!! And now I am lifting heavy weights, i can do a split again!!! Lol. Anthony combines faith and training which was the key. I can't recommend him enough. He is the best friend and trainer you could ask for because he cares.

I was almost 100 percent certain that my future was going to be filled with high dose steroids and chemo drugs to stop the joint destruction. I am sitting here in stunned thankfulness.